Konferenz/Tagung/Workshop
Plastics Heritage Conference 2019
Plastics Heritage European Association (PHEA) and Portuguese Center for the History of Science and Technology (CIUHCT)
29. - 31. Mai 2019
Museu da Farmácia, Rua Marechal Saldanha, 1, 1249-069, Lisboa, Portugal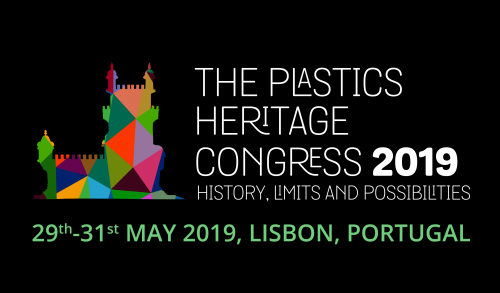 Under the aegis of the Plastics Heritage European Association (PHEA), the Portuguese Center for the History of Science and Technology (CIUHCT) will host the Plastics Heritage Congress 2019.
History, Limits and Possibilities, the congress' general theme, is the fifth in a series of international Plastics Heritage Conferences and will be held in Lisbon, the capital city of Portugal, at Museu da Farmácia, from 29th to 31st May 2019.
This congress aims to address plastics history and heritage by encouraging papers that contribute to a deeper understanding of the socioeconomic culture and material culture of historic polymeric materials (HIPOMS) in their various representations and functions in society. The main theme embraces the concepts of history, limits and possibilities of plastics heritage as organizing principles, thus perceiving their impact on the consumer and their technical and scientific developments. In addition to the scientific programme, the congress will include social events.
Call for Papers
The Call for papers is open for session proposals until 30th August 2018 23.59GMT and for individual paper proposals until 15th November 2018 23.59GMT. The acceptance/rejection of session proposals will be announced on 15th November 2018 for session proposals and on 07th January 2019 for individual paper proposals.
Registration
Early Bird registration opens on 15th January 2019. Late registration starts on 3rd March 2019. The final deadline for registration is the 30 April 2019.
Veröffentlicht am 25.10.2018