Konferenz/Tagung/Workshop
International workshop "Preventive Conservation in Museums, Libraries and Archives: scientific collections as a case study"
16. - 18. Oktober 2019 09.00 Uhr
Palazzo Chiaramonte Steri, Piazza Marina, 61, 90133 Palermo, Italy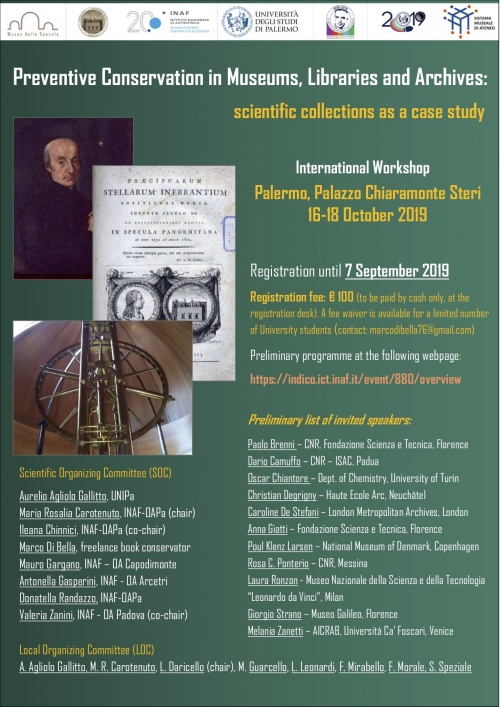 INAF holds, conserves and manages a considerable scientific and documentary heritage, among the most interesting and valuable in the field of History of science. Therefore, it has considered appropriate to organise a workshop devoted to preventive conservation, a highly topical issue arousing strong interest.
The exposure of cultural heritage to the environment has a significant impact on its degradation process. Consequently, the control of indoor conditions and parameters is vital to minimize further damage to historical artefacts and works of art. For instance, the assessment of indoor air quality represents a challenge for most museums.
Recently, INAF-OAPa has started an environmental monitoring project to  evaluate the microclimate effects on the historical collections kept in  the Specola Museum, Library and Archives, with the purpose of planning timely solutions and sustainable long-term strategies through a risk management approach.
The workshop therefore intends to offer an opportunity to share knowledge and experience among operators involved in the management and protection of collections, in order to improve understanding of the complex "environment - cultural asset" system.
Specialists in the field of preventive conservation will present the most recent scientific acquisitions with the aim of bridging the gap between scientific research and conservative practice.
Registration is open until 7th September 2019. Registration fee is 100 Euro (to be paid in cash only, at the regsitration desk). A fee waiver is available for a limited number of University students (contact: marcodibella76(at)gmail.com)
Veröffentlicht am 15.07.2019