Konferenz/Tagung/Workshop
Study days "Botany and its teaching objects, from yesterday to today, from school to university"
as part of the exhibition "Nice plants! Dr. Auzoux's papier-mâché models" organised by the Munaé (National Museum of Education
6./ 7. Februar 2019
Munaé resource centre, Rouen and Ecorché Museum of Anatomy, Le Neubourg, France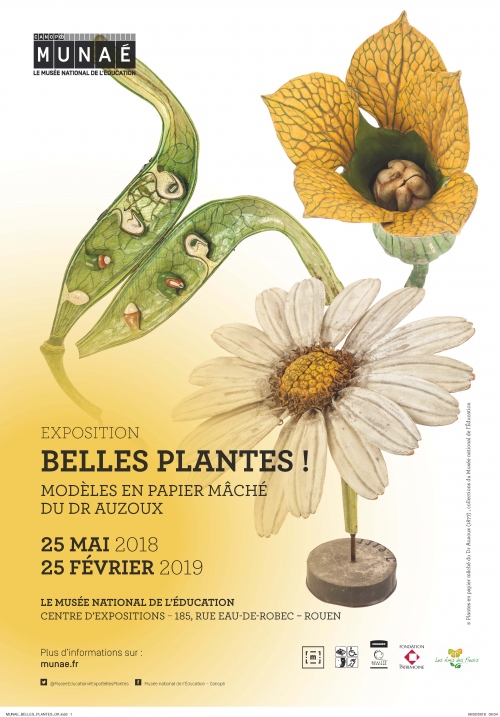 Exhibition "Nice plants! Dr. Auzoux's papier-mâché models"
As part of the exhibition "Nice plants! Dr. Auzoux's papier-mâché models" organised by the Munaé (National Museum of Education) from 25 May 2018 to 25 February 2019, two study days dedicated to "Botany and its teaching objects, from yesterday to today, from school to university" will be held on 6 and 7 February 2019 at the Munaé resource centre in Rouen and the Ecorché Museum of Anatomy in Le Neubourg.
These study days are structured in two main lines: 1) the materiality of these objects and 2) teaching botany which aim to explore the different types of teaching tools for botany and to understand their material history, their didactic and educational use, as well as their scientific value. They have now become heritage objects and they convey the scientific and technological knowledge which has succeeded one another from the 15th to the 21st century, both in France and worldwide. They equally reflect the scientific and educational policies over that period.
The studies carried out on the first day will focus on epistemological, pragmatic and formal changes which led to the manufacturing of these objects. What is also at stake is to restore the use of these objects, through oral and written testimonies. The paper proposals for the first day at the Munaé could thereby fit with the hereunder mentioned thematic areas:
Official regulations governing the teaching of botany and the link to the manufacturing of didactic or/and educational objects,

Technical heritage: the different manufacturing companies (Deyrolle, Auzoux, Brendel, etc.), the choice of materials (paper, wax, plaster, plastic, etc.), restoration issues; etc.
Aesthetical choices,

Testimonies regarding the use of these objects in teaching situations (written and oral, photographic, places of use),
Herbariums and factitious botanical collections,
The emergence of illustrations, photographs or moving images for the teaching of botany.
The second study day to be held in Le Neubourg will more specifically be dedicated to the process of heritage status (patrimonialisation) of these didactic or/and educational botany models. The paper proposals could thereby fit with the hereunder mentioned thematic areas:
The history of the collections and of the schools still owning these types of objects,
Preservation and enhancement issues of these collections, (restoration, exhibitions, distribution, etc.)
The role and place of the art market (building up private collections)
The paper proposals (including title, 15/20-line abstracts and bio-bibliographical information) are to be submitted to Marianne Lombardi at the latest by 15 September 2018. (marianne.lombardi(at)reseau-canope.fr).
The talks (30 minutes each, followed by a 15- minute Q&A period) are to be delivered in French or in English. The texts of the talks will be published (digital publishing-Canopé)
Veröffentlicht am 27.06.2018